Artifacts: 1 - 25
Artifact no. 1
– These original paintings depict Dorchester's Greatest
Assets:
Dorchester Park, which is 48 acres in size, and the Dorchester Lake
which is
9.5 acres in size. The park contains a multiple of recreational and
camping
facilities. A campground which contains 28 camping sites; all of which
has
access to on-site water and electricity plus 10 sites have access to the
village's
sewer system. There is also a dump facility for campers to dispose of
their
waste. A softball diamond, tennis courts, basketball courts, horseshoe
pits,
18 holes of frisbee golf, plus three shelters where wedding receptions and
family get togethers can be held; are all features of the park. A SS Dorchester
Memorial and a covered gazebo is available for wedding pictures to be taken.
The paintings were artistically drafted and donated by Grace "Dietel" Ensign.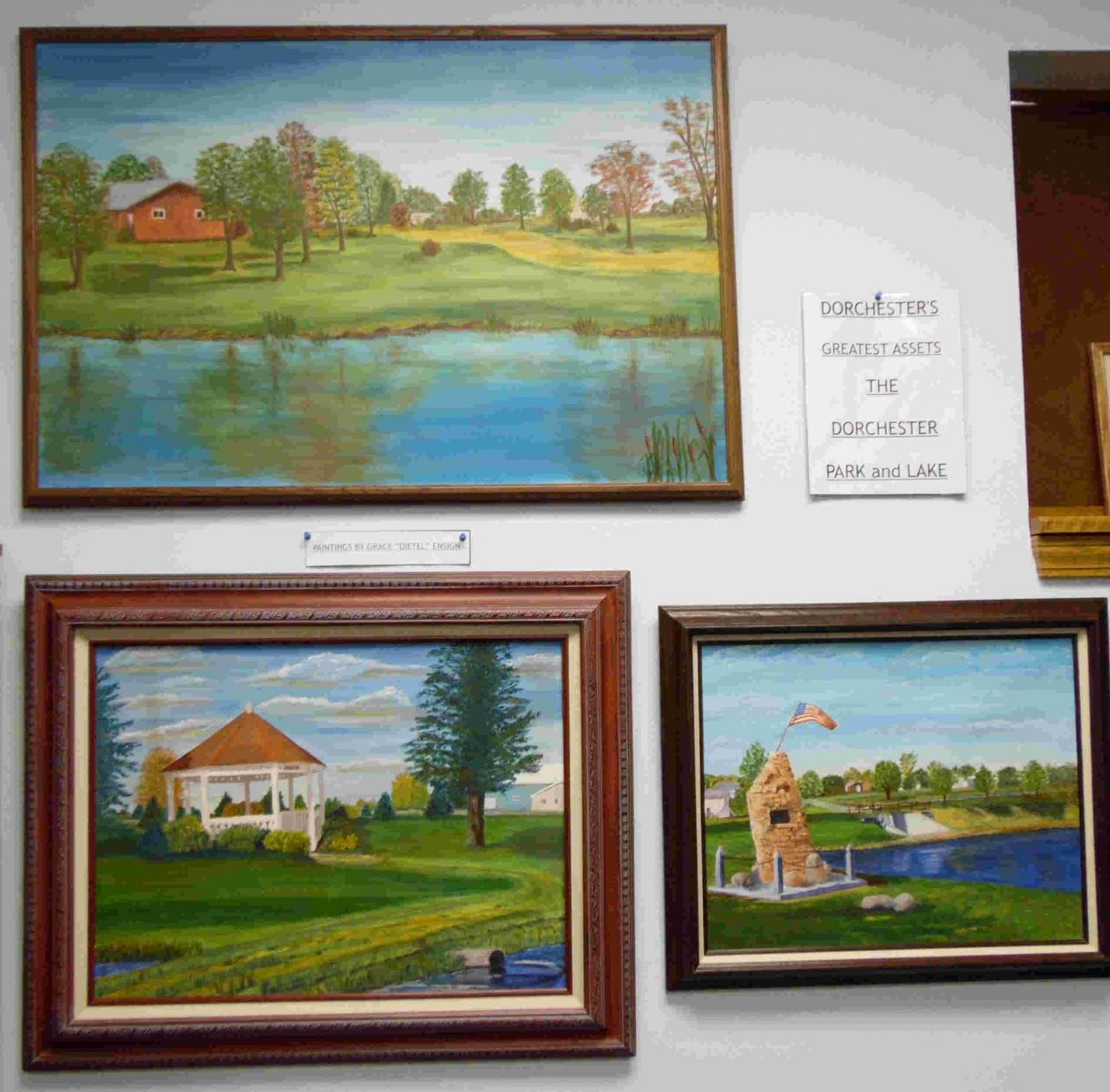 Artifact no. 2 – This map was put together and donated by Linda
"Johnson"
Mertens. Linda, a historian in her own right; felt that it was
absolutely
necessary to put down on paper; on a map showing where the early
pioneers lived in Mayville during the year of 1875. That was just two years
after the Wisconsin Central Railroad Company came chugging into what would
become the small hamlet of Dorchester. Mayville a township of six square
miles is bordered on the east by State Highway 13; on the north by the Taylor
County Line; on the west by County Road "E" and on the south by State
Highway 29. In order to make it more interesting; Linda also recorded the
land owners of an additional two to three miles in all directions from the
boundary lines of the Township of Mayville. One can only imagine the hours
of
research and recording that this project consumed. Thank You Linda.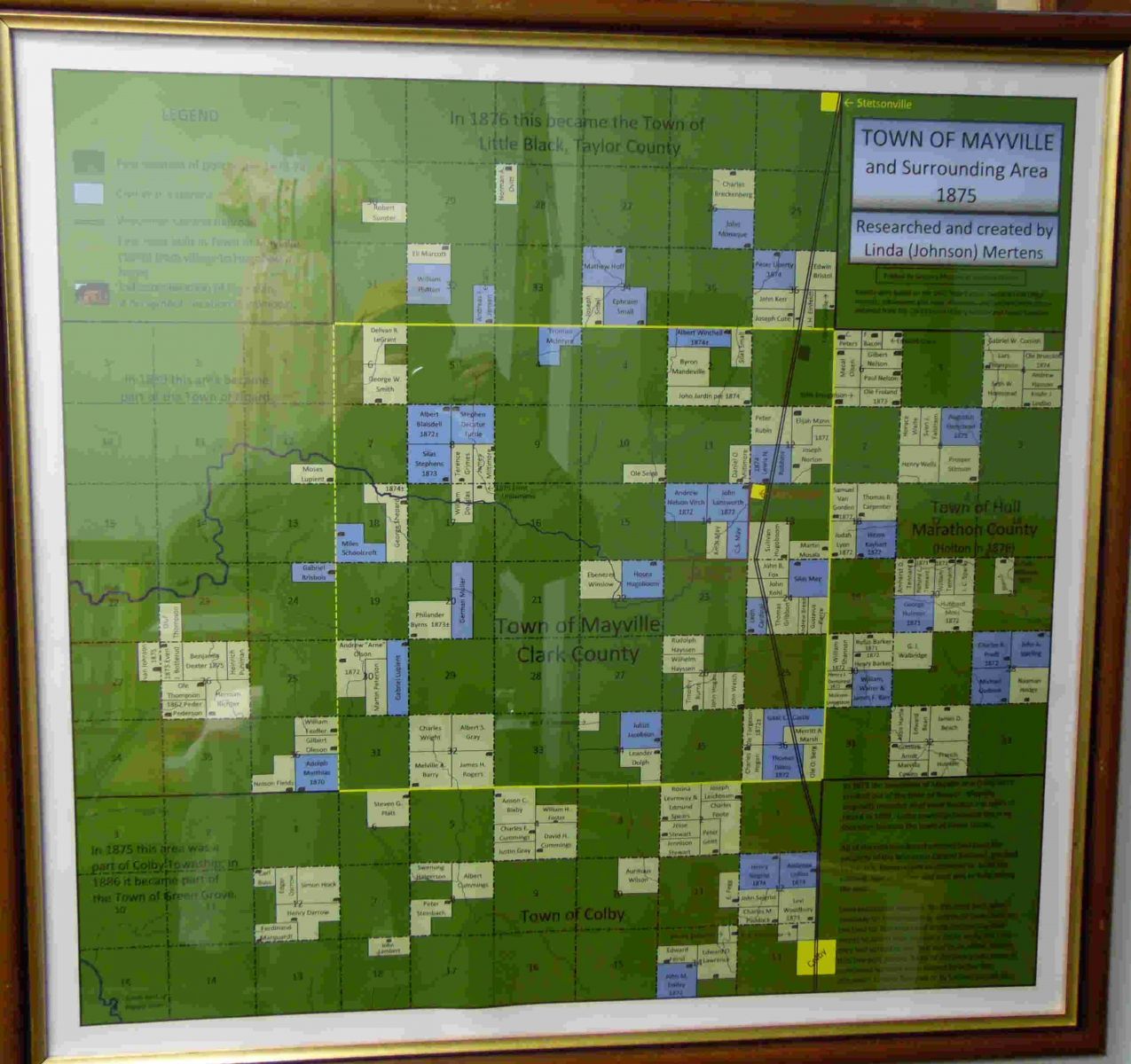 Artifact no. 3 – This letter deals with the beginning of the Wisconsin
Central Railroad and its entry into Dorchester. It was mailed to Ted Schwoch
in 1970 in preparation for the Centennial Celebration and reads as follows:
March 14, 1970 – Mr. Ted Schwoch – Village President – Dorchester Wisconsin:
Refer to your letter of February 10 to Mr. Abbey of the Soo Line R.R. The
first dirt turned in the construction of the Wis Cen Ry., was June 5, 1871
at W. Menasha. Rails reached Stevens Point Nov 15. Construction began
northward at Stevens Point March 18, 1872. That year the road was
completed to the present site of Colby and was named for Chas. L. Colby of
Boston, Mass. He was a son of the president, also a partner in the Phillips &
Colby Constr. Co., that had been awarded the contract to build the railroad
from Menasha to Ashland. Also in 1872 work was completed of clearing,
grubbing and grading the right-of-way about 50 miles north of Colby to a point
later named Worcester.
On April 15, 1873 the Hooper, Boyle & Seymour Constr Co., started laying rail
at Colby northward and arrived at Worcester January 6, 1874. That is as much
information as we have on that section of the road. You will have to guess
about the day the rails were laid to the site of Dorchester (name came from a
then small community between Boston and Quincy, Mass.) It is now a section
of the city of Boston. However, six and a half miles, under good conditions,
should not have taken long – maybe two to three days. But on the other
hand the record shows arrival at Worcester months later. Of course, it could
have been trouble other than construction that delayed them as Hooper,
Boyle & Seymour broke their contract with Phillips & Colby and moved out
early in 1874. Early --- could have meant January.
First record we have found that your community had a name was a time table
effective sept 27, 1874. Train No 9 left Colby 4:16 p.m. Arrived Dorchester
5:00 p.m. Train No 10 left Worcester 6;00 a.m. - Medford 10:25 a.m. -
Dorchester 11:26 a.m. - arriving Colby 12:15 p.m.
Stations between Dorchester and Worcester were Medford, Charlestown,
Chelsea, Dedham, Walden – all were named for towns in Massachusetts. Later
Abbotsford was named for Edwin H. Abbott who was president of the railroad
at one time.
I trust this information will be of some help to you. If you use any of it –
I'd like to see a copy of the booklet you put out. Sincerely, James W. Lydon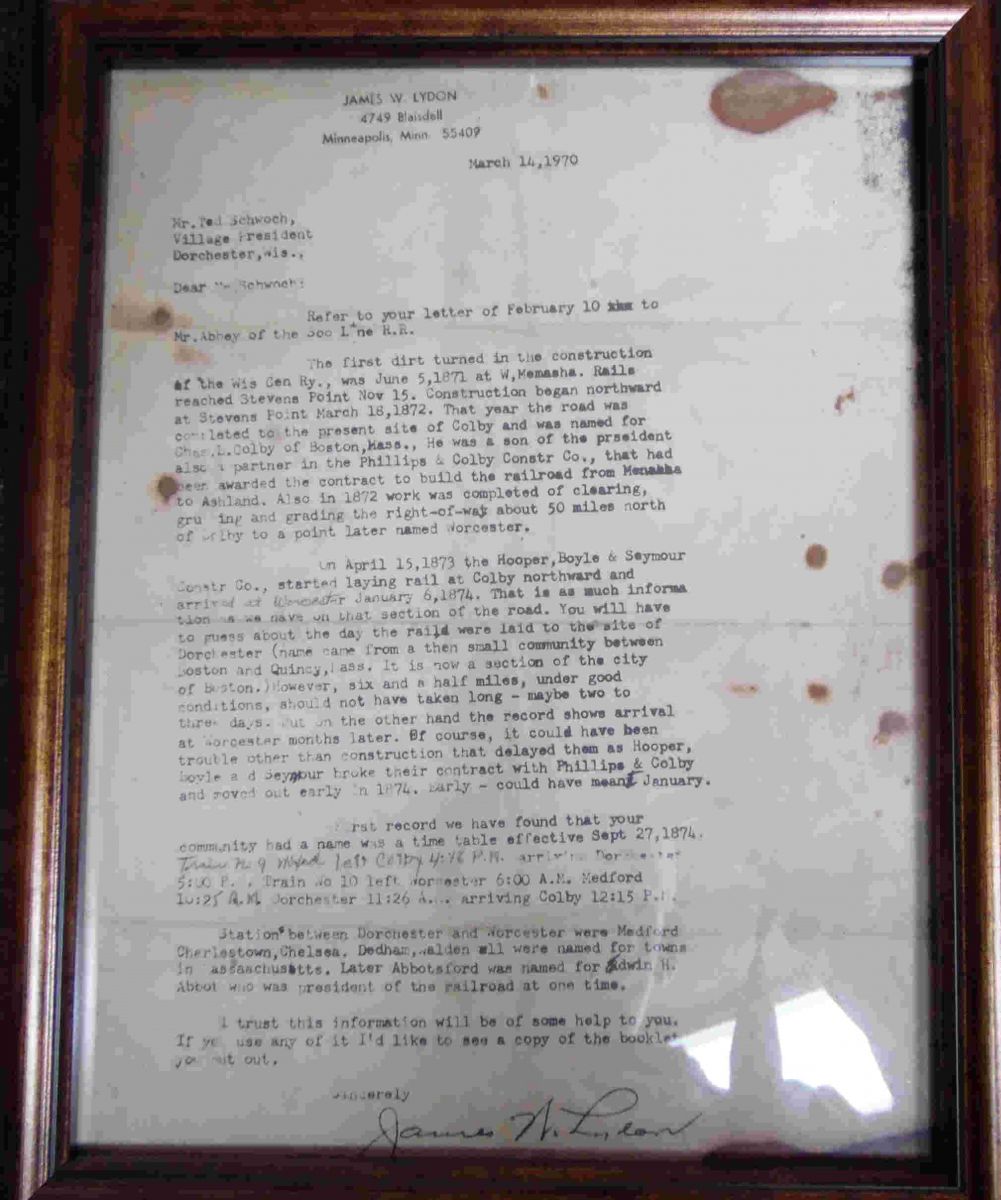 Artifact no. 4 – Original Document Confirming Dorchester is a Village
A township or a particular area wishing to become a village required that a
minimum of 400 people lived within the boundaries being considered for
incorporation. At the time in 1901; the area wishing to become the Village of
Dorchester had 431 residents and therefore qualified and met the state
standards required. The second requirement for an area to become a village
was that a referendum be held and that a majority of the voters responded
with an affirmative response. That requirement was also met. The following
are the words dictated by the Circuit Court of Clark County after the
referendum was held on October 22, 1901:
Election – Take Notice that by an order of the Circuit Court of Clark County
dated Sept 28, 1901; incorporating the Village of Dorchester and on an
election held Oct 22rd, 1901; a majority of said election voted to incorporate
said Village of Dorchester. We bring duly appointed as inspectors of election
by the order of said court – do hereby appoint November 12th 1901 between
the hours of ten o'clock in the forenoon and four o'clock in the afternoon, at
LaBossiers Hall in said village for the election of the officers of said village
towit: A President – Six trustees, a Clerk, a Treasurer, a Supervisor, an
Assessor, a Constable and two Justices of the Peace. Dated Oct 23, 1901 -
Frank Nagel–August Homsted–Ray Hugoboom; inspectors.
Sixty Six votes were cast in this very first election held in the Village of
Dorchester. Fifty Eight voted Aye and Eight voted Nay. On October 29, 1901;
the first officials were elected into office. They were: Village President –
Frank Nagel; Village Clerk – August Homsted; Treasurer – Andrew Sorenson;
Village Trustees – Gus Genrich, Fred Gutwasser, Henry Rau, William Chamness,
Valentine Fleckenstein, Julius LeClaire; Village Marshall – Charles Fessler.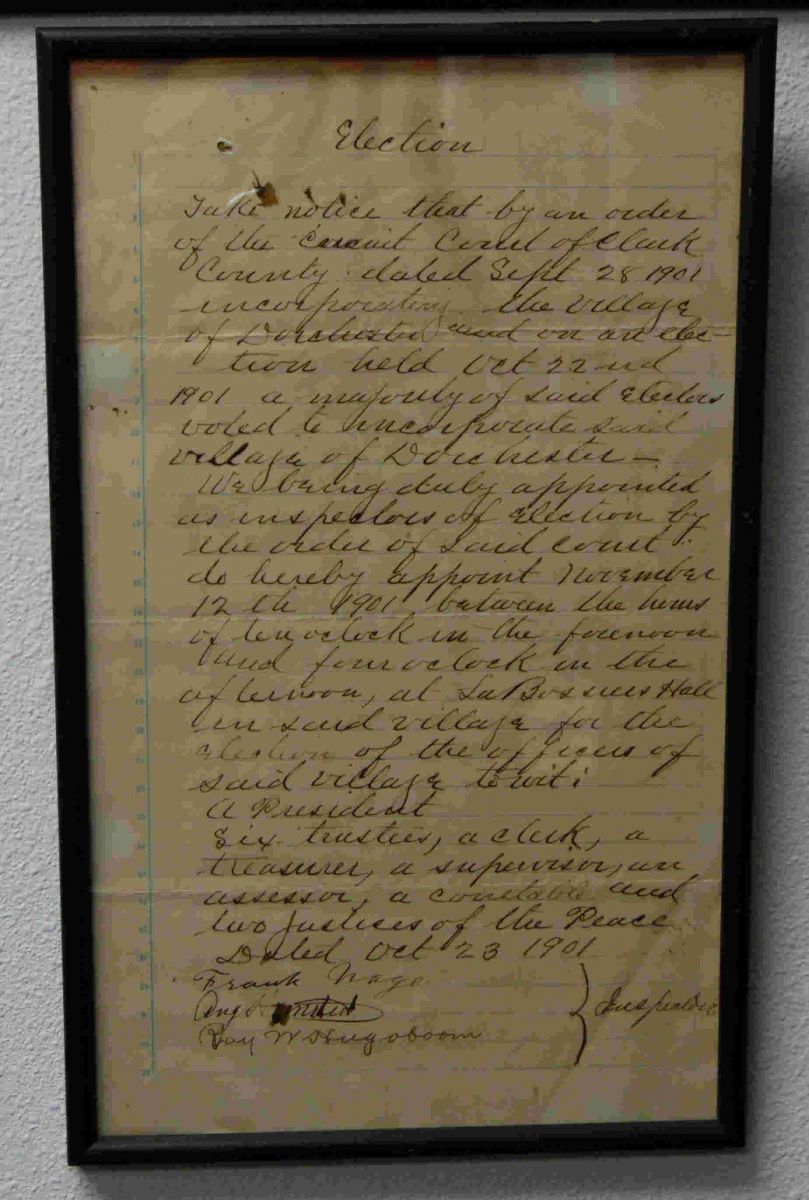 Artifact no. 5 – Pictures of the Centennial Parade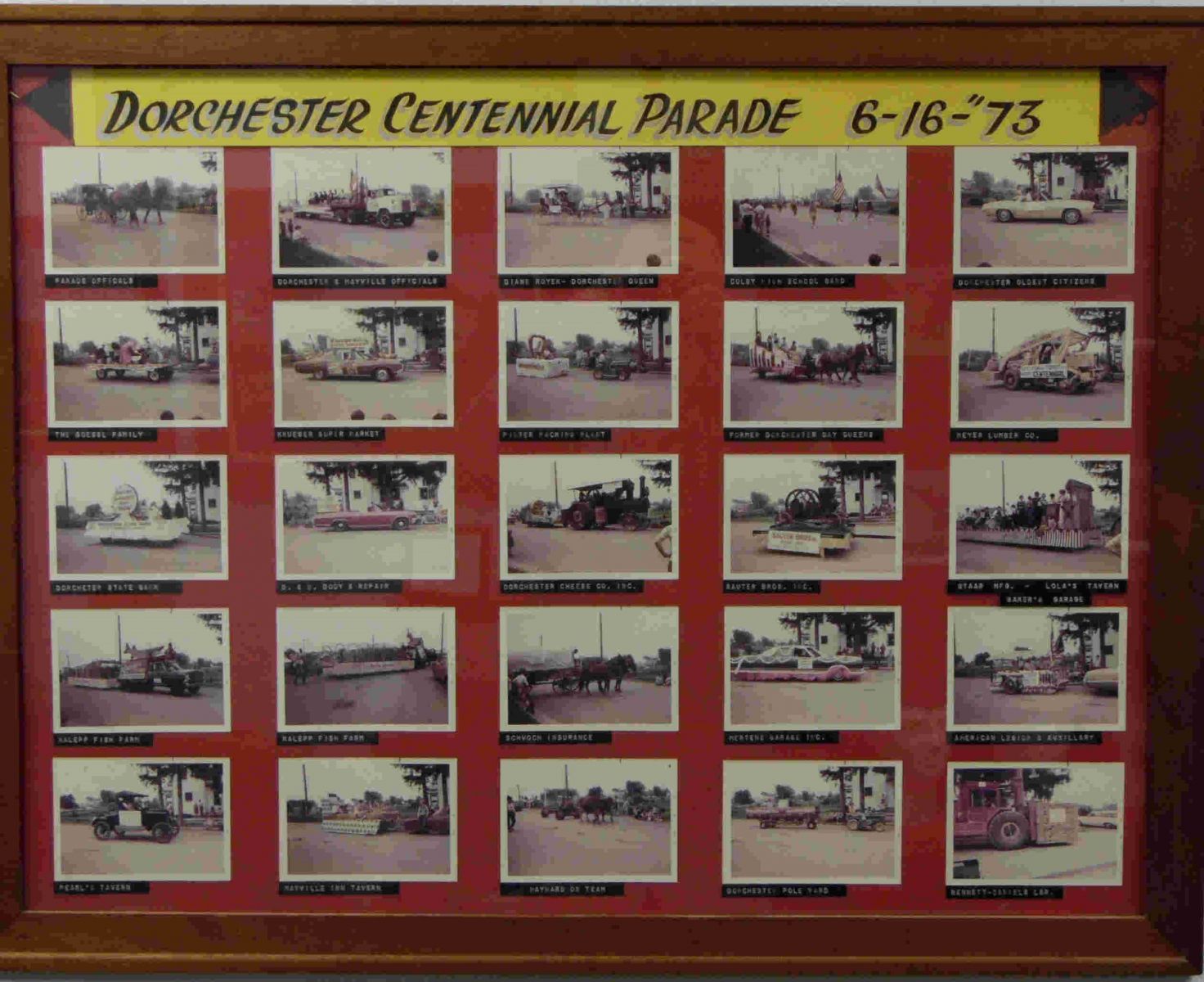 Artifact no. 6 – Pictures of the Centennial Parade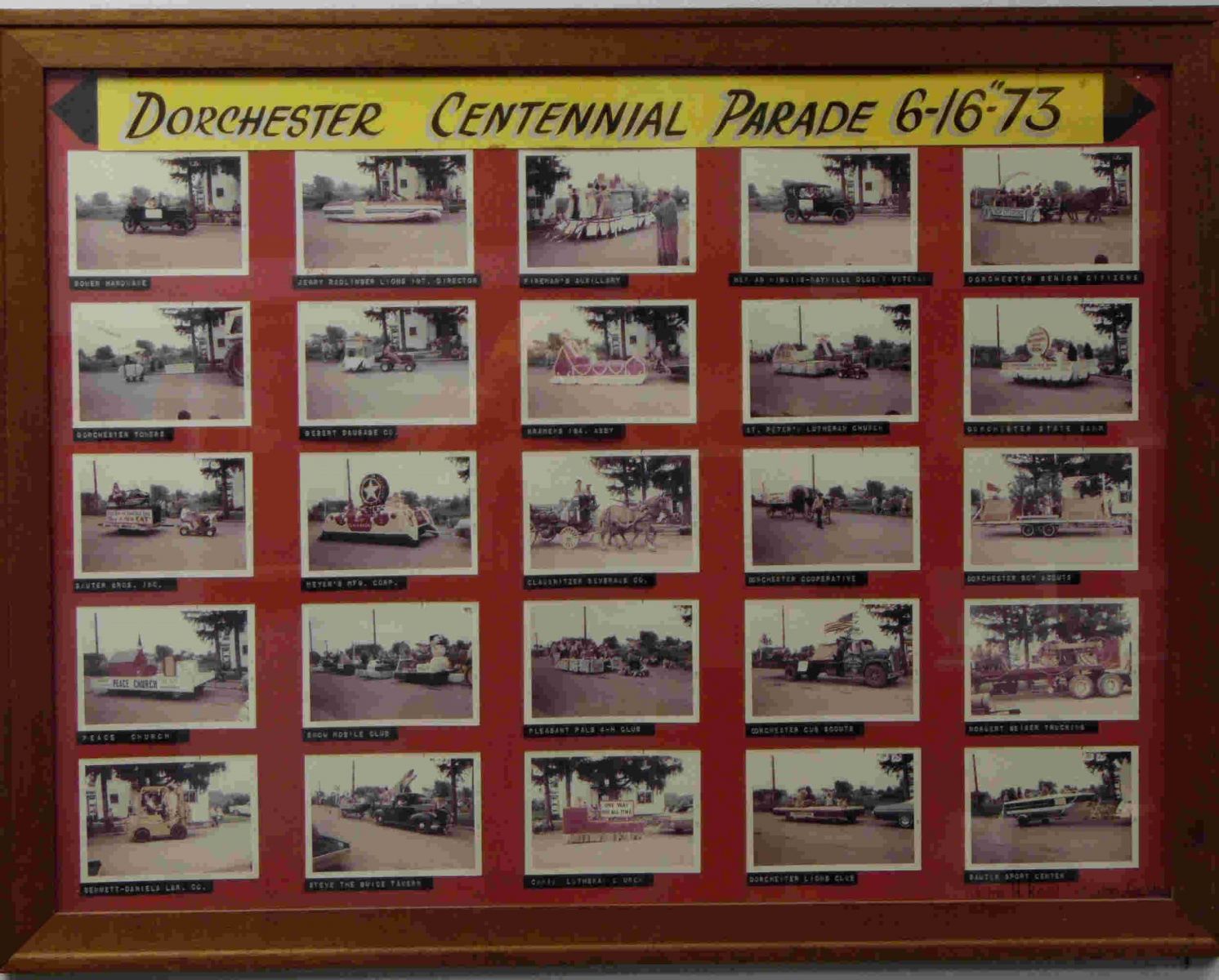 Artifact no. 7 - This picture shows a number of Dorchester citizens
celebrating "The Harvest Festival" which was a annual event. It was
sponsored by "The German Farmers Aid Socierty". The exact location cannot
definitely be identified but it is believed that the festival was celebrated one
mile south of Dorchester on Hi-Line Avenue. The location was right where the
Heartland Co-op corn bins and dryers are located today. The picture below
states that it was taken on September 16, 1889. No names have been found to
associate with those on the picture. It is just a neat old picture with a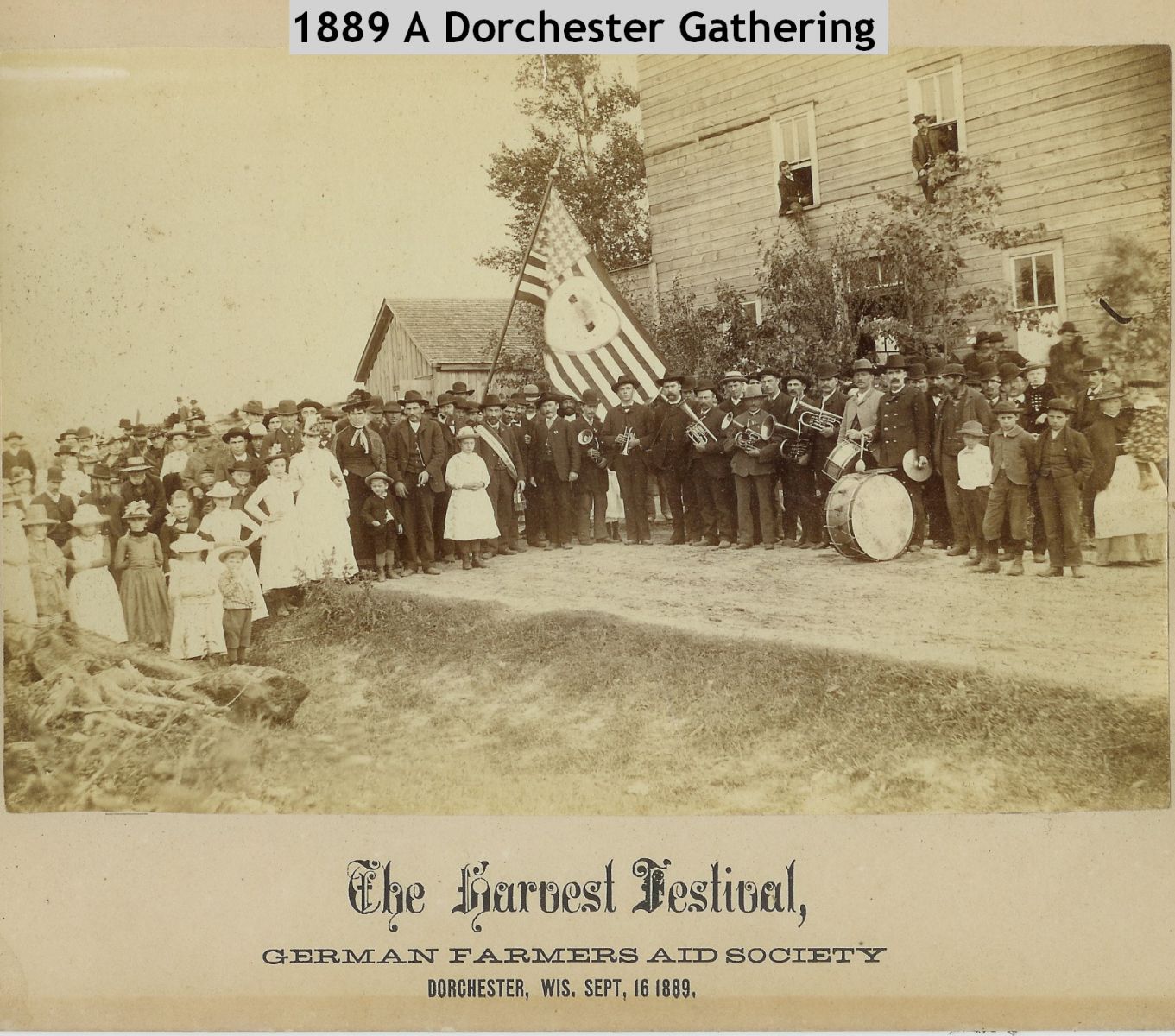 Artifact no. 8 – Prior to when the old Dorchester High School was
razed in
1967, there was a rummage sale for articles in the school and/or for
part of
the school itself. The floor in Mr. Zier's business/typing room (located
at the
southeast corner of the ground floor) was covered with pine boards
from 1916.
Bob Ruprich's dad figured he would be able to make a lot of
different things
from these boards and so he removed them, gave a donation
to the school
district for them and took them home. Over the years, the
boards were used
for different projects around the Ruprich farm and home.
Once the historical center got off and running, Bob Ruprich asked if I would be
interested in some of the pieces that still remain. After thinking for a bit, I
said yes and decided to incorporate the pieces into a slab and display them.
Cutting the boards into eight equal pieces and nailing them together was all it
took to retain a small bit of history from the old Dorchester High School.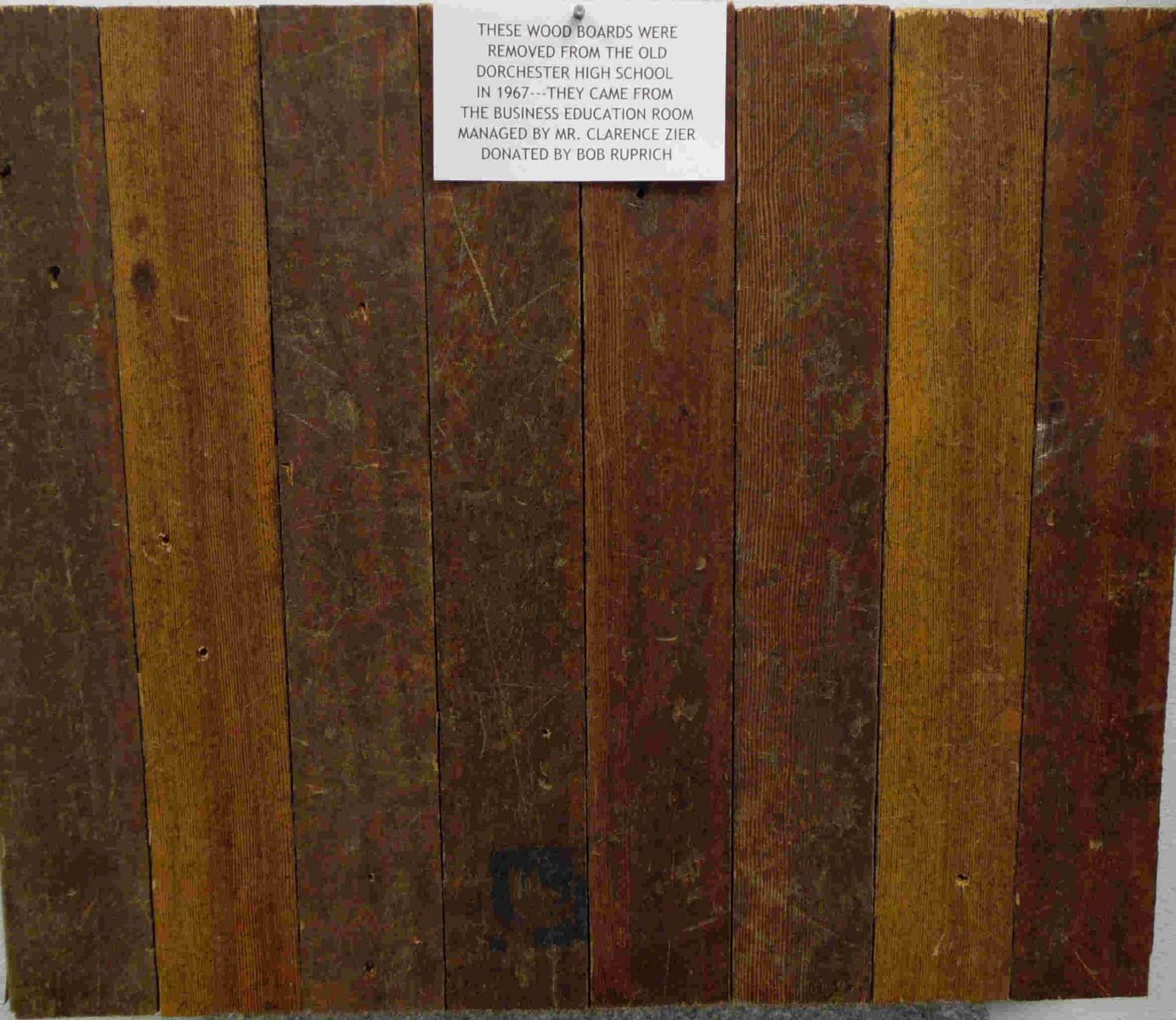 Artifact no. 9 – This trunk holds every newspaper printed in Dorchester
from September 1, 1900 to January 4, 1973. From 1937 to 1973 – the
newspaper was known as The Dorchester Clarion. The newspapers were
donated by Gracie Lehnetz to the Village of Dorchester when she departed for
retirement in Florida around 1982. The trunk itself is unique as when one
views the hardware inside; you can see that the trunk was initially designed
and constructed as a wardrobe trunk and is believed to have come from
Germany in the late 1800s.
There were a number of different owners of the newspaper and for all the
owners to have maintained the first copy of each run for over 73 years is quite
amazing. The newspaper had different names over the years: From 1900 to
1903; it was called The Dorchester Recorder: From 1904 to 1914; it was called
The Clark County Herald: From 1914 to 1923; it was called The Dorchester
Herald: From 1923 to 1937; it was called The Weekly Clarion: From 1937 to
1973; it was called The Dorchester Clarion. All of these newspapers are on
microfiche and available for viewing at The Dorchester Public Library.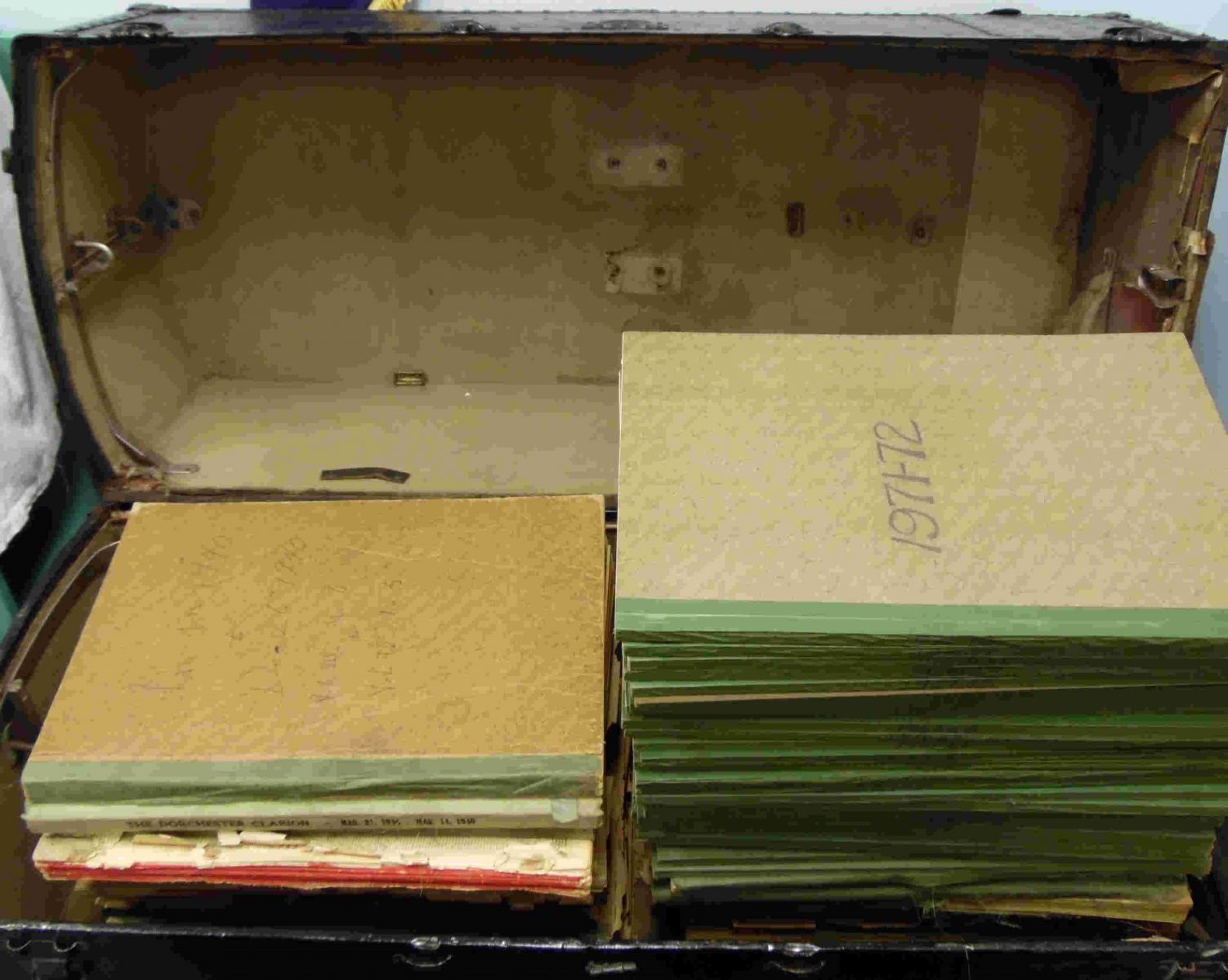 Artifact no. 10 – The second newspaper in Dorchester was know as the
New Era and the editor was Clarence Zook. This newspaper was printed just
five times from 1898 to 1899. This is the only copy of the New Era known to
exist and was dropped off at my house in Dorchester sometime during 2005.
Unfortunately, I do not know who the Good Samarium was as I neglected to
write down his name. But the young man stated that his father found the
newspaper in a house he was renovating back around 1960; lodged in between
the studs as it was being utilized as insulation. He retrieved the newspaper,
had it framed and since that time; it hung on his family's kitchen wall.
There was one other attempt at the newspaper business. I discovered a small
article in the Medford Archives which identified a newspaper being printed in
Dorchester with the name of "The Deutsche Volkszeitung" (The German
People's Newspaper) and its editor was William Evers. This newspaper was
printed only a few times during the years 1892 to 1894. Unfortunately, no
other information about this newspaper has been found.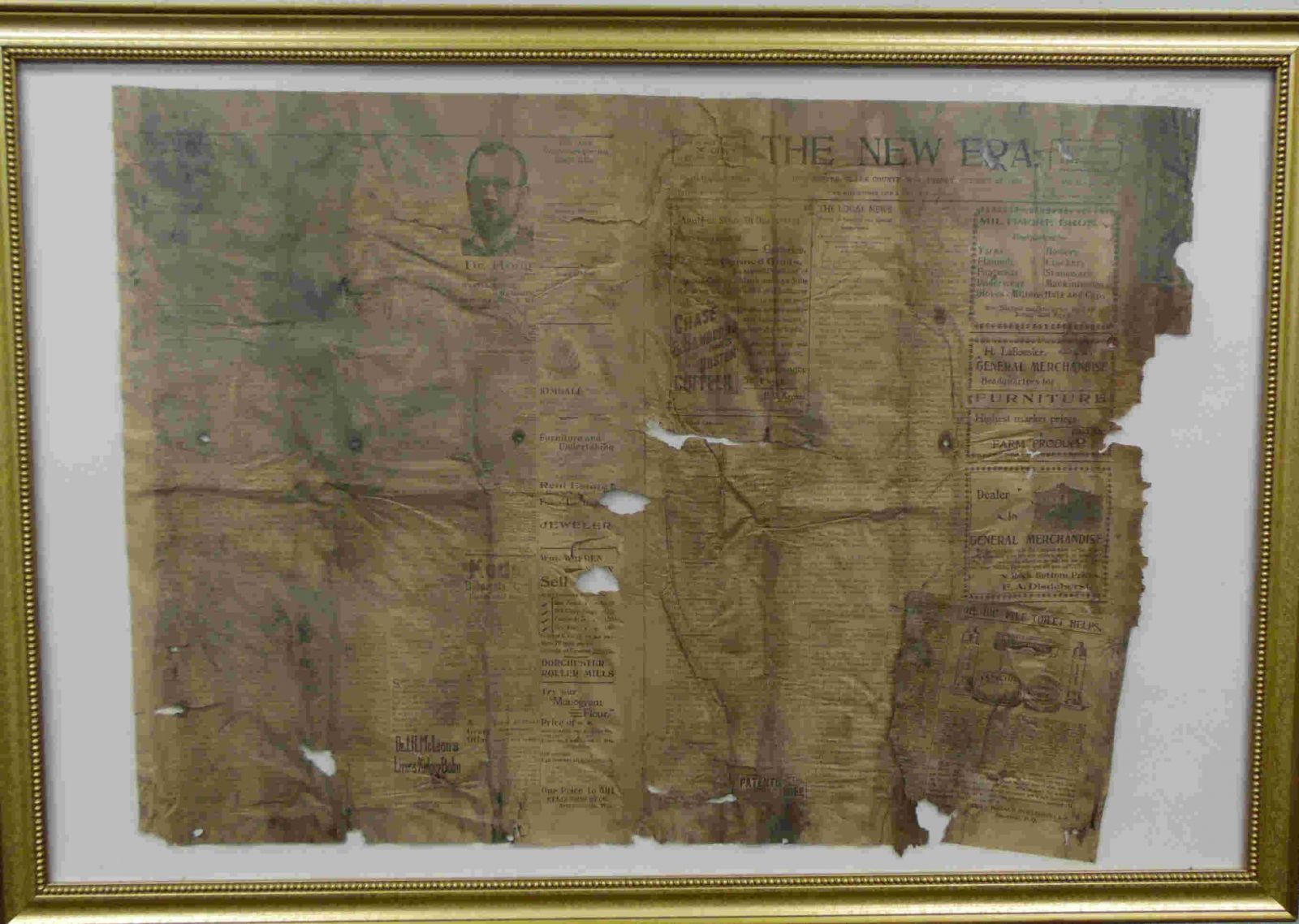 Artifact no. 11 – This crocheted bedspread was completed in 1940 by
Josephine "Mertens" Werner Marrett. If you look closely to the upper left;
you can see the thickness of the thread that was used to make this beautiful
decorative bedspread. The amount of time that was required for this
production to become a reality is not known but certainly it would have been
done a little everyday for perhaps a year or so. It was donated by Judy
"Jantsch" Gramling. Judy and this writer are Josephine's maternal
grandchildren. Josephine was considered handicapped due to a back injury
and this was her way to make a small amount of money as there was no social
security back then. A tablecloth of the same size was also crocheted as were
hundreds of decorative pillow cases, doilies and many other items until her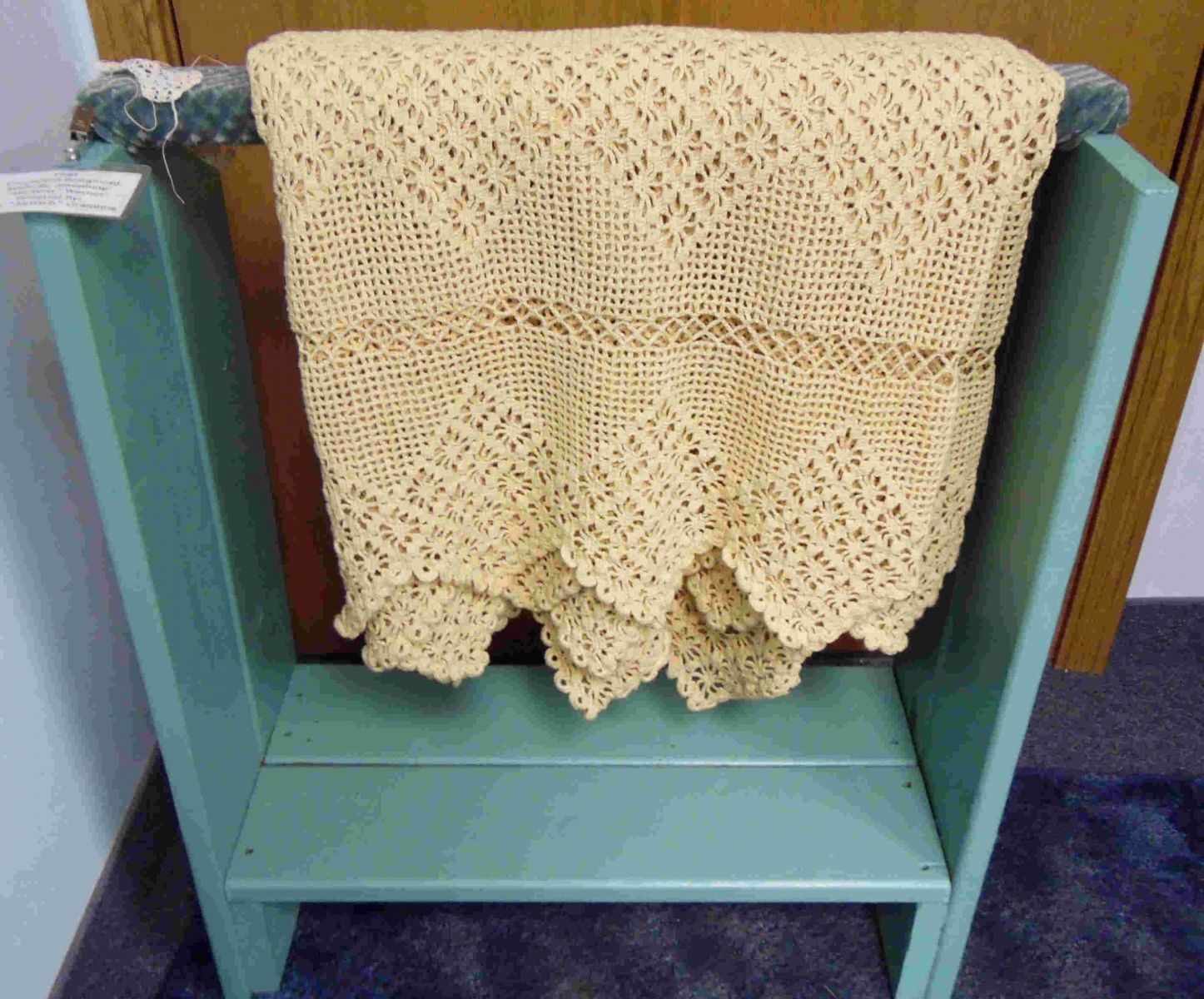 Artifact no. 12A – This trunk belonged to and was the traveling trunk
of Johanna Jantsch who emigrated to America in 1892 along with her daughter
Barbara "Jantsch" Renner and her husband Wenzel Renner. The trunk was
made by her son Johann Jantsch who had emigrated to America with his wife
Ana Marie "Muller" Jantsch and their 2 ½ year old son Henry Jantsch ten years
earlier in 1882. Johann was a artist in carpentry and he had made the trunk in
1880 knowing at that time they would be emigrating in the near future.
Johanna arriving by ship to Baltimore was concerned that her trunk might be
lost in the confusion of leaving the ship and boarding a train which would take
them to Wisconsin. So she wrote or had someone write on the trunk in case it
got lost in the shuffle. Send to Johann Jantsch in Stevens Point – Portage Co.
Wiskonsin in Nord Amerika – Johanna Jantsch. Notice when the Germans write
in English, they do not use c's only k's.
This trunk was well cared for and when Johanna passed; the trunk went to her
son Johann and his wife Anna Marie (Mary) Jantsch and when they passed; it
went to their daughter Emma "Jantsch" Gustafson. When Emma passed; it
went to her son Bob Gustafson who donated the trunk to the Dorchester
Historical Center in 2013. Johanna Jantsch was Bob Gustafson's and this
writer's Paternal Great Grandmother.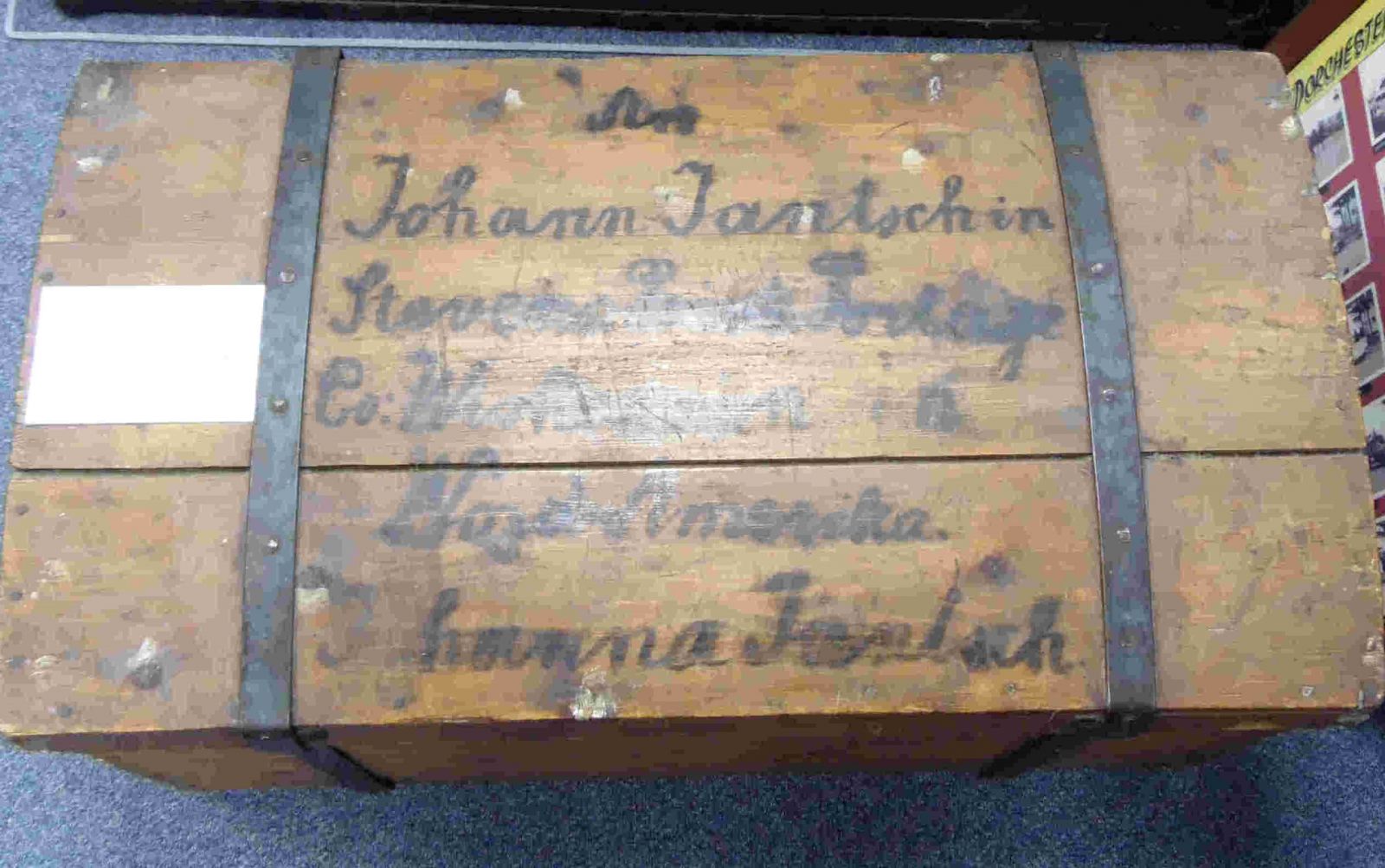 Artifact no. 12B – The trunk when opened reveals the picture of
Johanna Jantsch. Johanna was born in Bohemia in 1821 and died on
Independence Day (July 4) 1907 in Dorchester and is buried in the Dorchester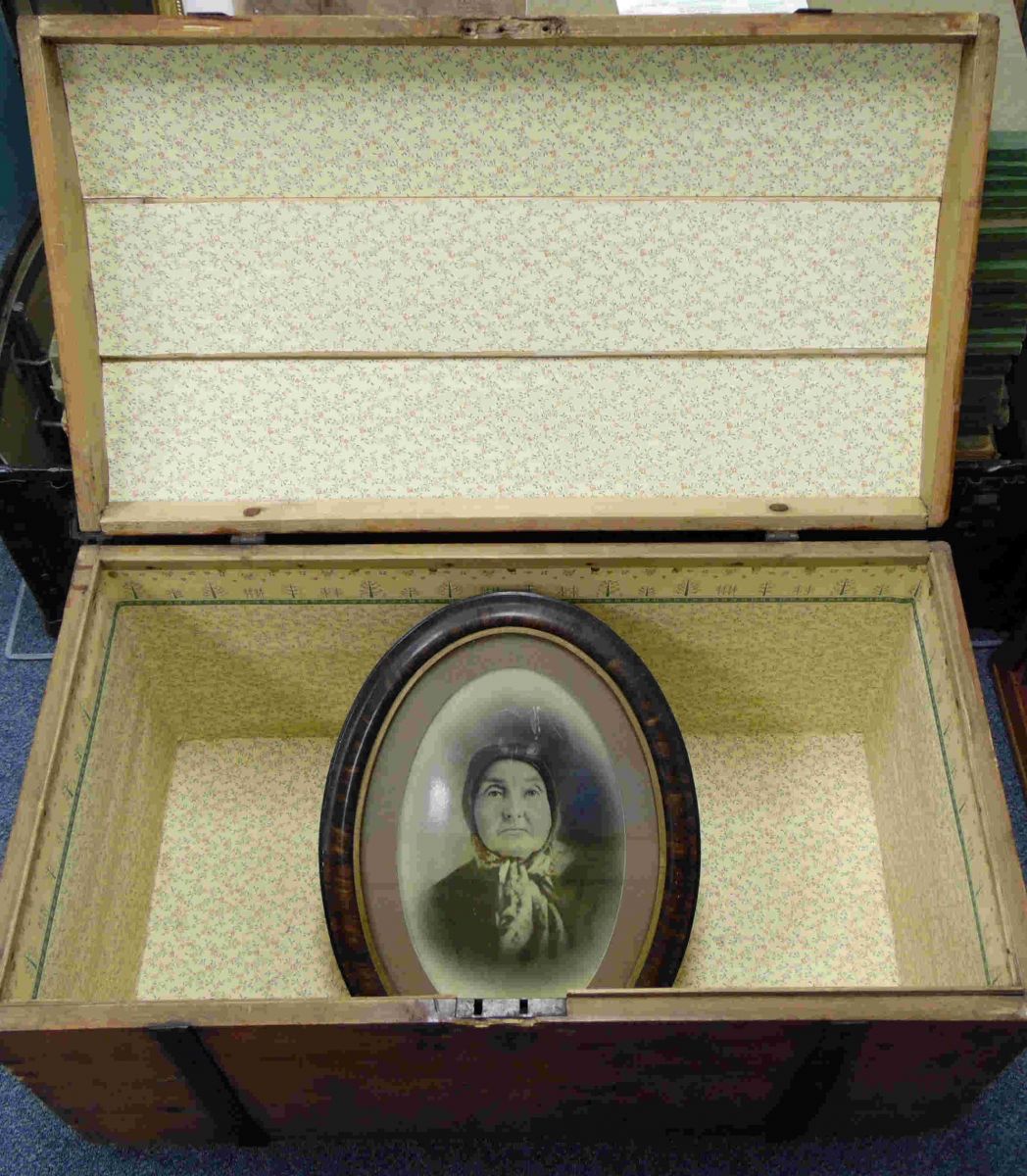 Artifact no. 13 – This 1940 coat was worn by Frank Seidel when he
and his
brother Albert owned and operated Seidel Bros. DX Service Station and
Restaurant at the corner of State Highway 13 and County Road "A".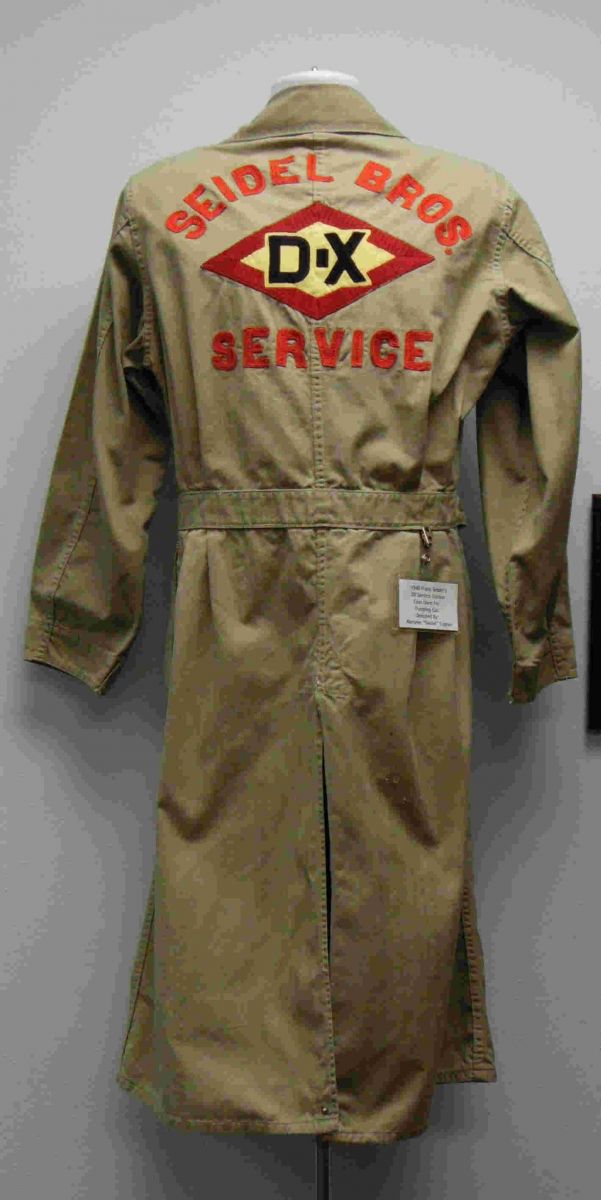 Artifact no. 14 - This coat was donated by Lois Seidel
(Nyle Seidel's wife) and
by Marlene "Seidel" Cypher (daughter of Frank). It
was reported that the coat
would hang on a nail by the corner of the bar near
the door for when the bell
would ring, meaning someone needed gas. Frank
would put the coat on and
pump the gas keeping his food clothes underneath
clean for food distribution.
The fast food restaurant was known for its thick
chocolate malts and hot beef
sandwiches. Nyle is seen in the picture wearing
his dad's coat during a Seidel
reunion which took place in 2000.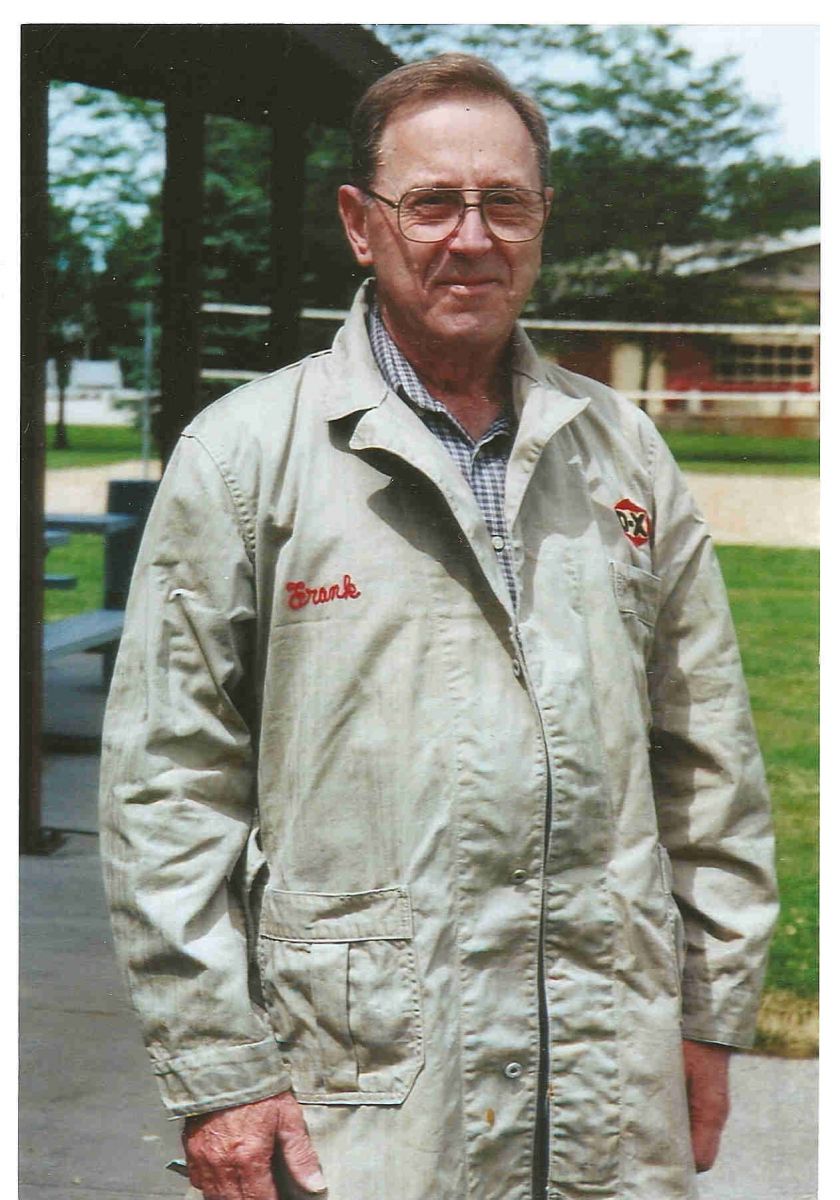 Artifact no. 15 - This dress was made in 1973 by Helen "Blazel" Busse
for her daughter Kathy who was twelve years old at the time and she wore it
in the big Dorchester Centennial Parade. Helen donated the dress in 2012.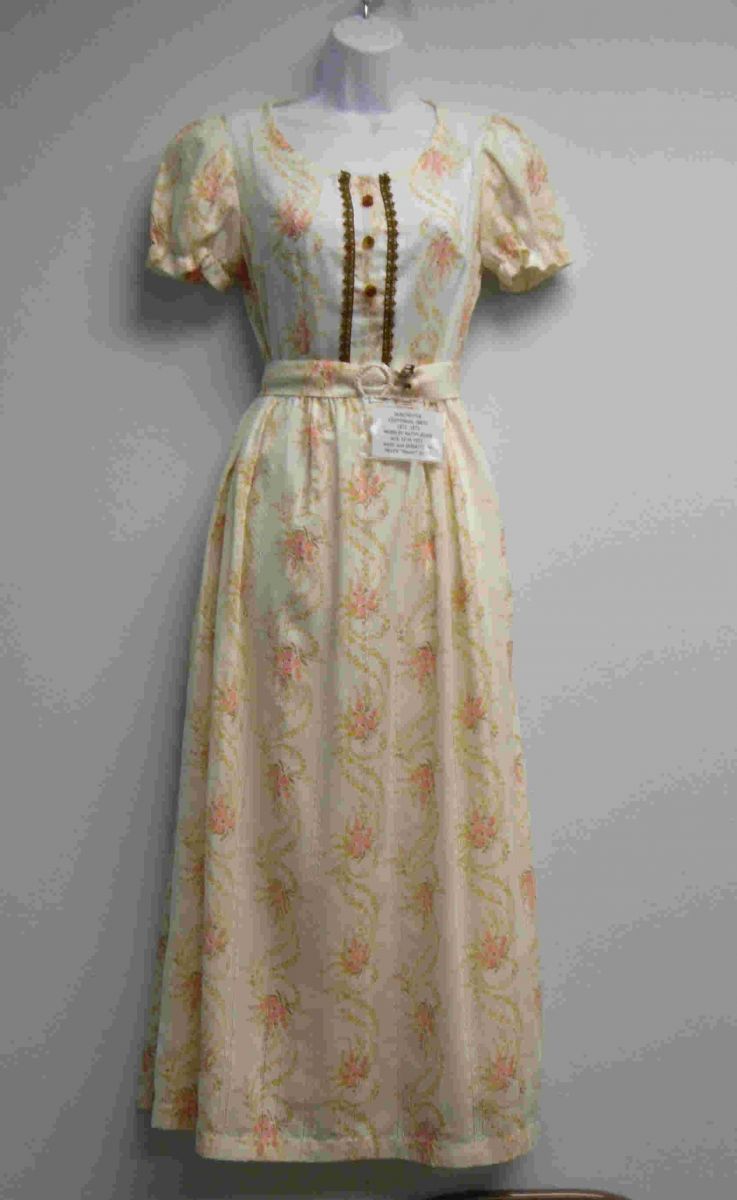 Artifact no. 16A- In 1923 - for the second time – Raymond Hugoboom took
over the Dorchester newspaper and changed the name to the Weekly Clarion.
It was at this time that he gave out shaving kits to his good customers.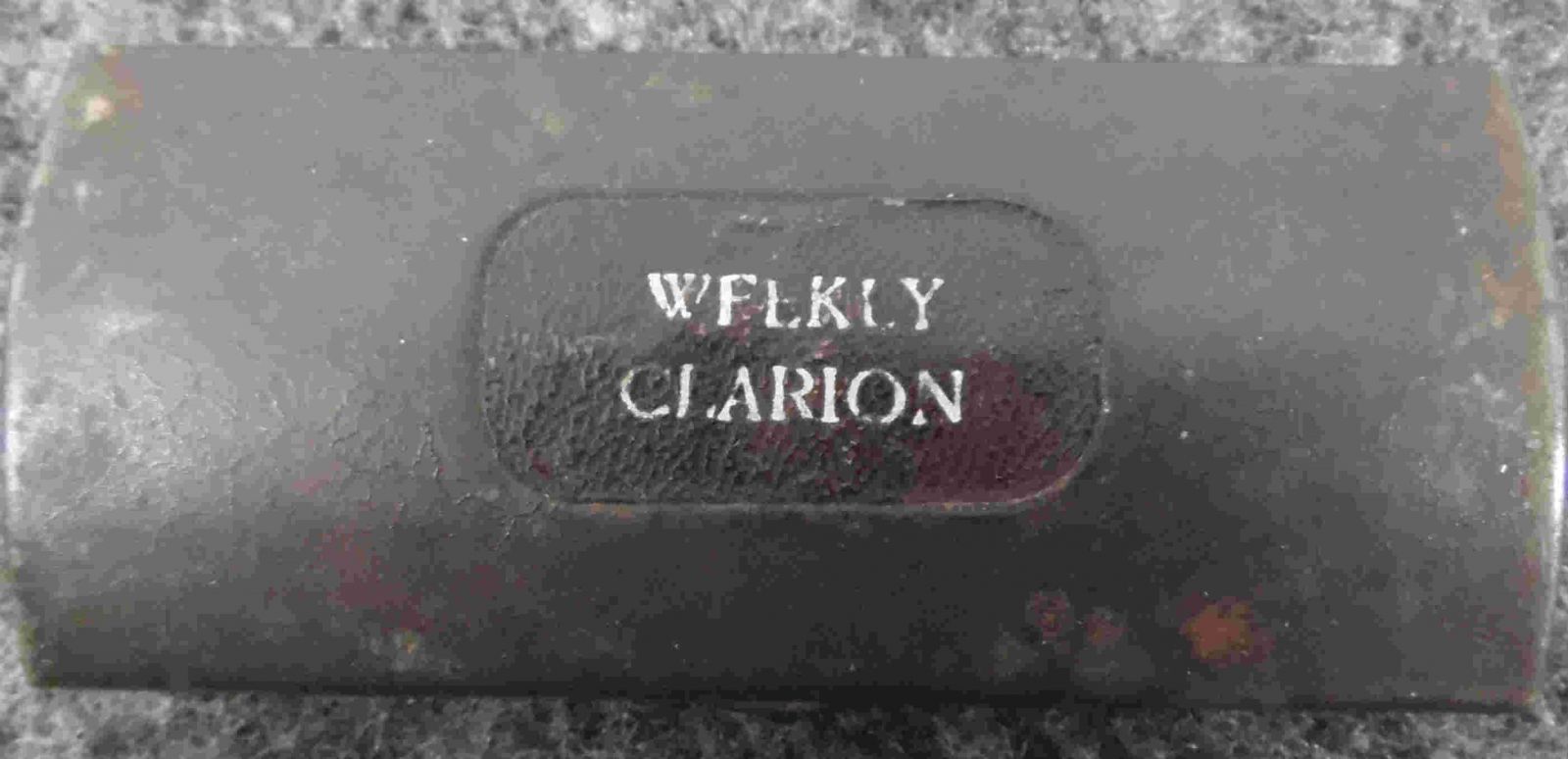 Artifact no. 16B – The shaving kit was donated by Jerry Ludwig in 2015.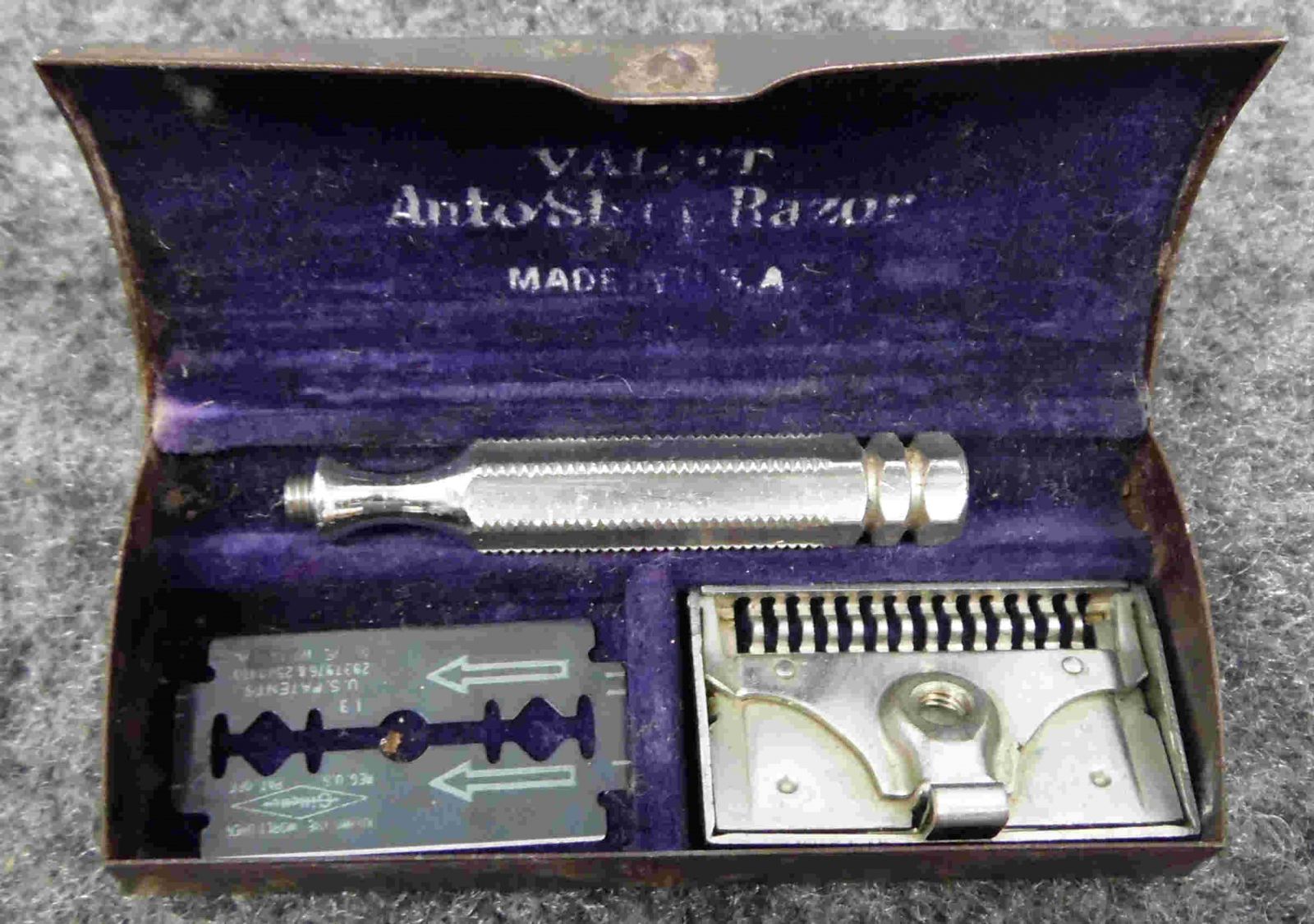 Artifact no. 17 – This chair is from circa 1930 and was originally
purchased by Edward Fuchsgruber when he moved into his new quarters in
February of 1930. The building he purchased was originally the Mehner Real
Estate Office and was located just south of the barber shop. Dan Duellman
purchased the chair when he attended an auction held by Jim Maurina.
Dan donated the chair in September 2015 during the all high school reunion.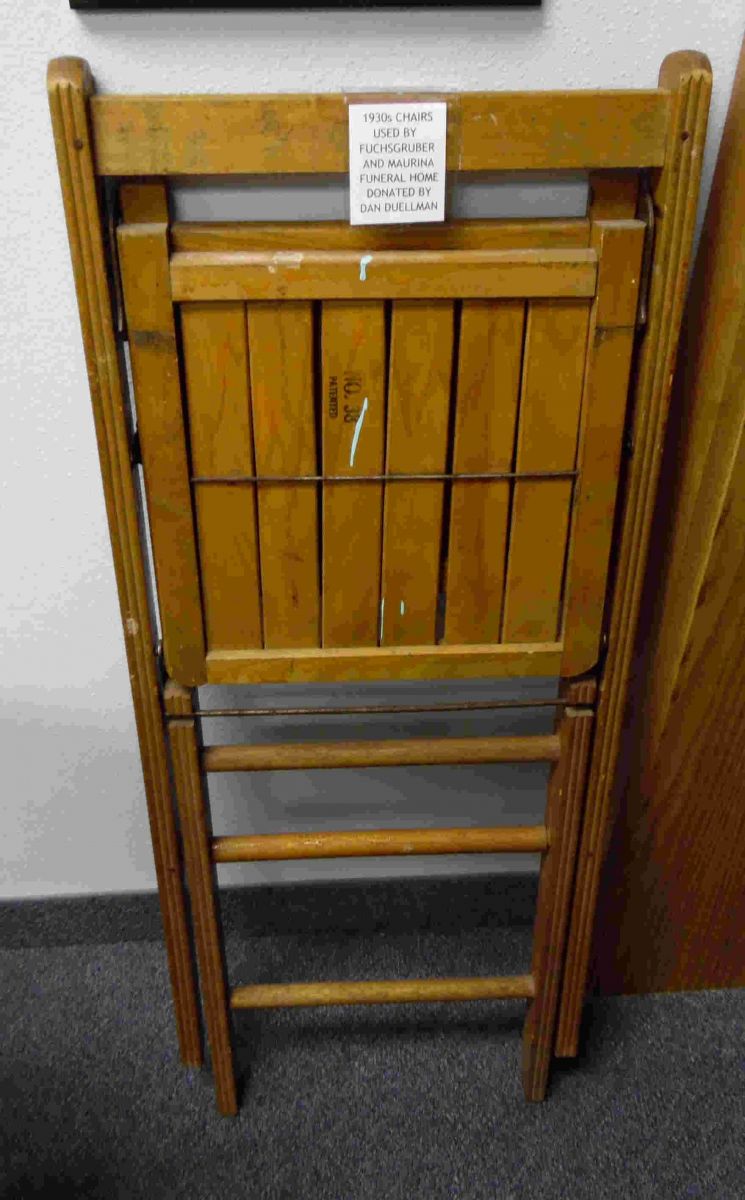 Artifact no. 18 – This welcome to Dorchester flag is an unknown
entity. No one seems to know where it came from or when it first appeared.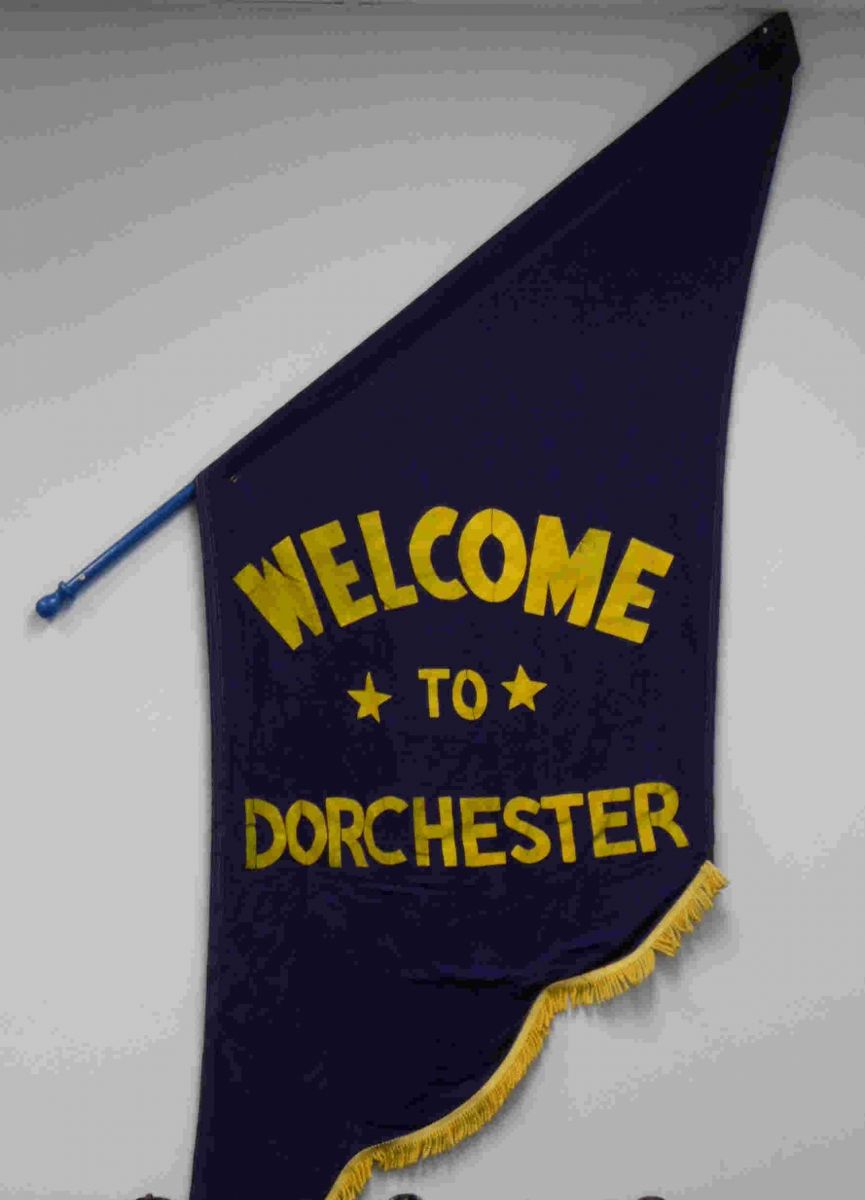 Artifact no. 19A – This circa 1940 wood barrel (top shown) is the
way that
Seidel Brothers would obtain their malted milk product from the
Borden
Company. Seidel Brothers had one of the first fast food restaurants in
the country and were known throughout the area for their delicious and
especially thick chocolate malted milk drinks. The barrel indicates 100 lbs of
the malt powder and from comments made by present senior citizens – it did
not last long. Eddie Seidel (nephew of Frank and Albert Seidel) donated the
barrel in September of 2015.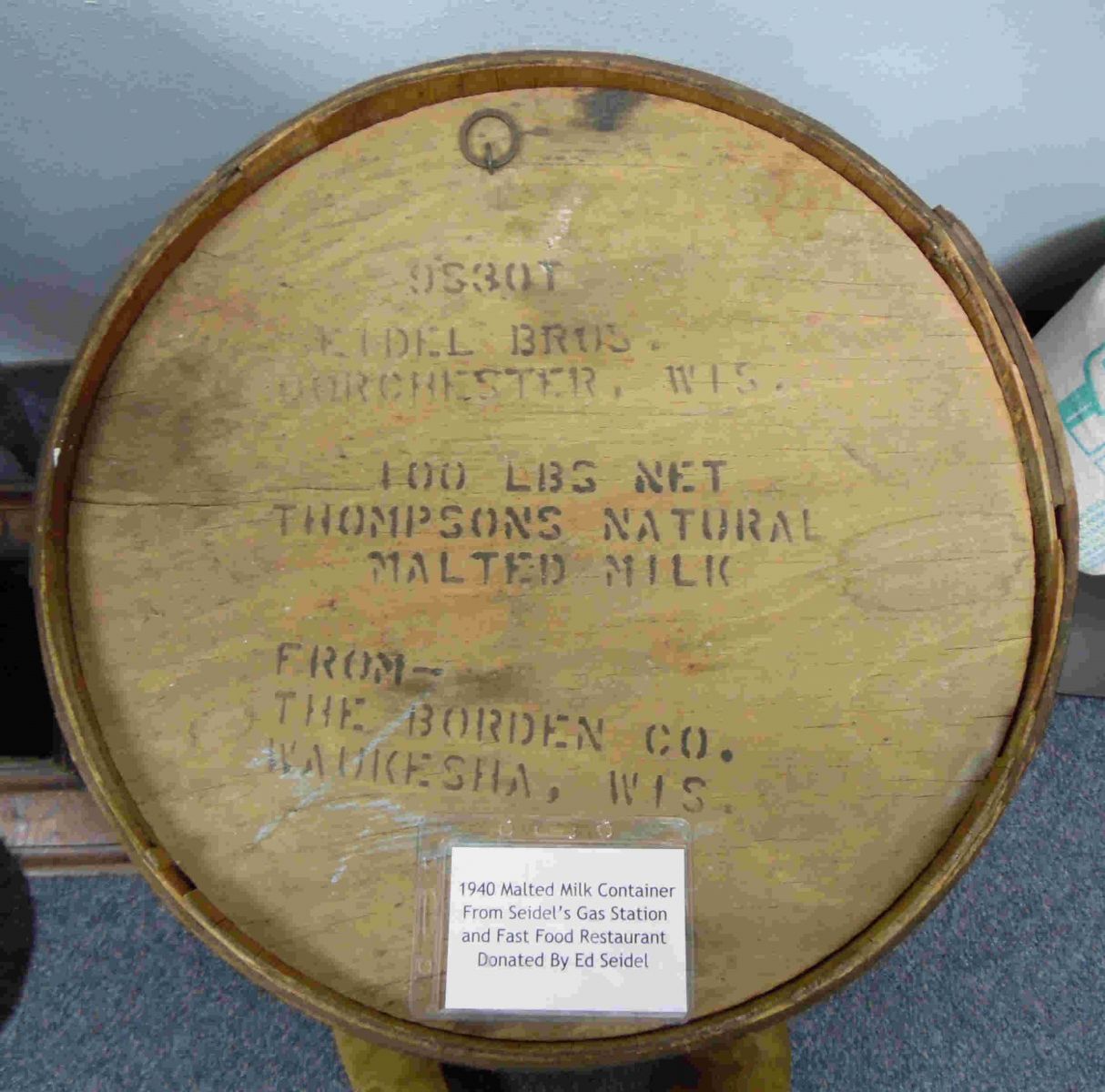 Artifact no. 19B – This wooden barrel contained the 100 lbs of pure
natural malted milk powder that Seidel Brothers used to make their delicious
chocolate malted milks. Eddie Seidel (nephew of Frank and Albert Seidel)
donated the barrel in September of 2015.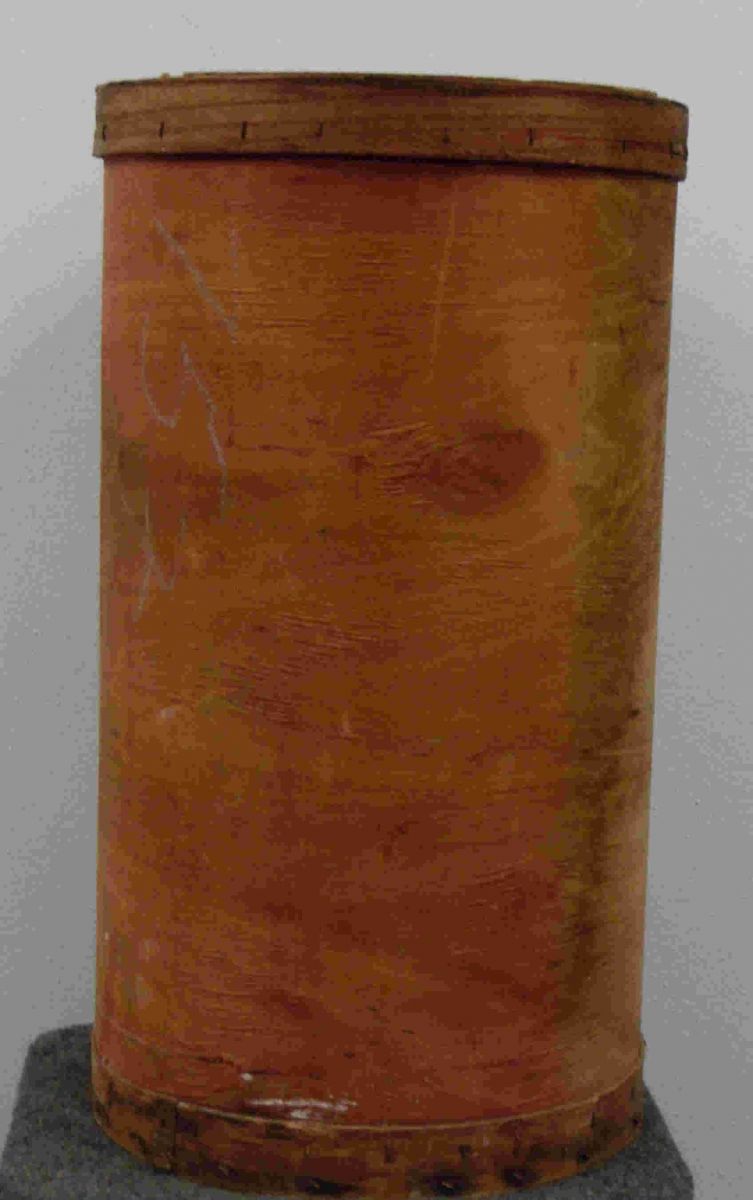 Artifact no. 20 – This weird looking device is called a "Schnitzelbank"
(German Shaving Bench). Every German carpenter had one of these because it
provided a carpenter with the means of performing almost any woodworking
technique using two hands and one foot. The carpenter would sit facing the
left in this example. He would take a piece of wood that he was intending to
work on (shave) and place that piece of wood on the slanting flat piece of the
Schnitzelbank. He would then use his foot to push on the brake locking the
piece of wood into place much like a vise and with his two hands; he would
use a draw knife to shape the piece of wood into a shingle for the roof or into
an axe handle, etc. This particular Schnitzelbank was made by this writer's
paternal grandfather Johann (John) Jantsch in 1883 so it is now more than 13o
years old. There is even a German Song called "The Schnitzelbank Song". It is
called the song to be sung in a pub and is very interesting to listen to. You can
go online to hear the Schnitzelbank Song. This Schnitzelbank was donated by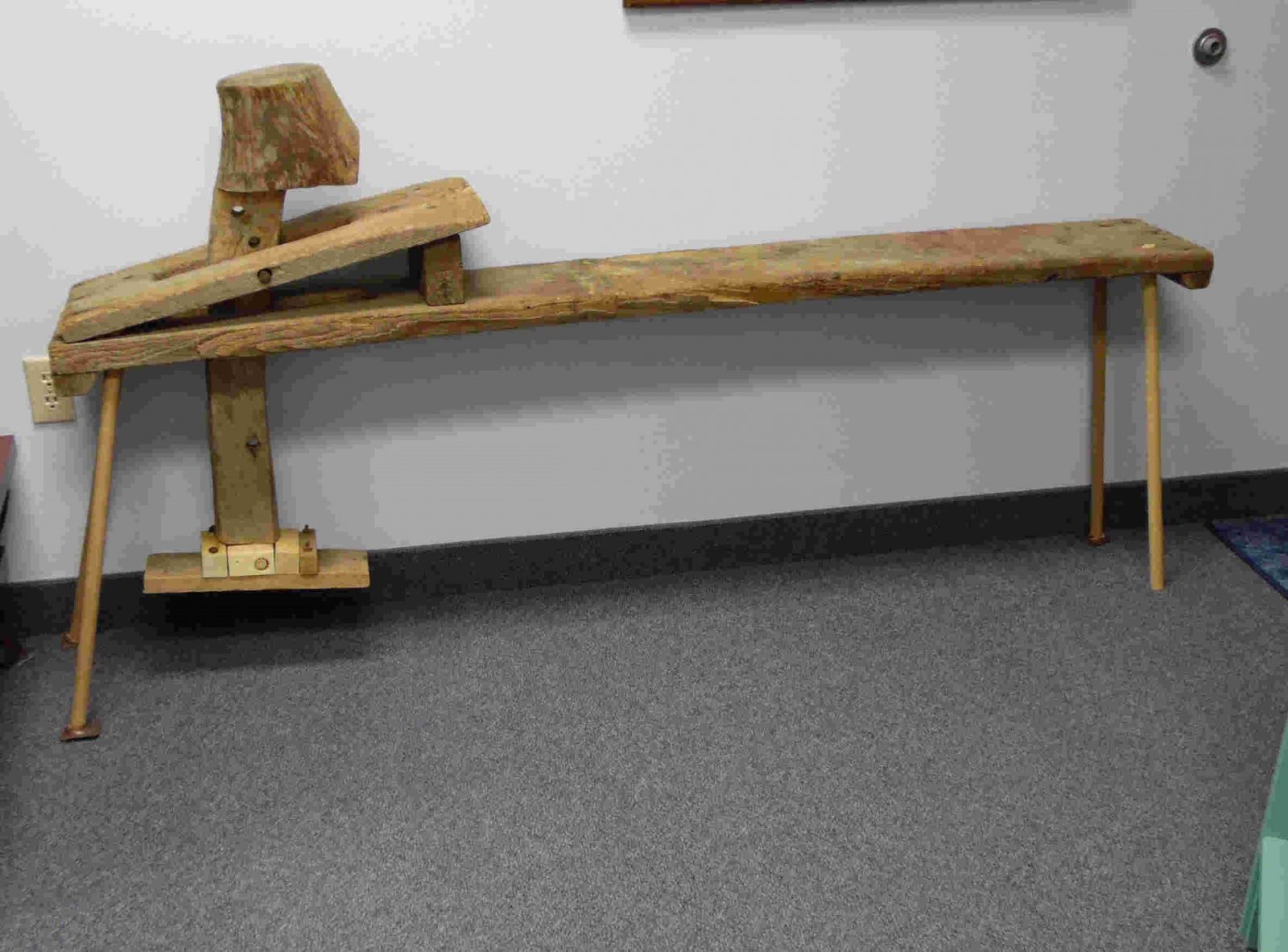 Artifact no. 21 – These two pieces of furniture were
manufactured by the
Dorchester Furniture Company in 1952. Howard and
Mrytle "Brecke" Bedroske
received this furniture as a wedding gift that year
and they donated it in 2014.
Jack Beasley was the owner and operator of the
Dorchester Furniture Company
during that time frame The red Formica was a
popular color and material used
during the early 1950s. It has been said that
the company made thousands of
this type of end table and coffee table
furniture and shipped them to every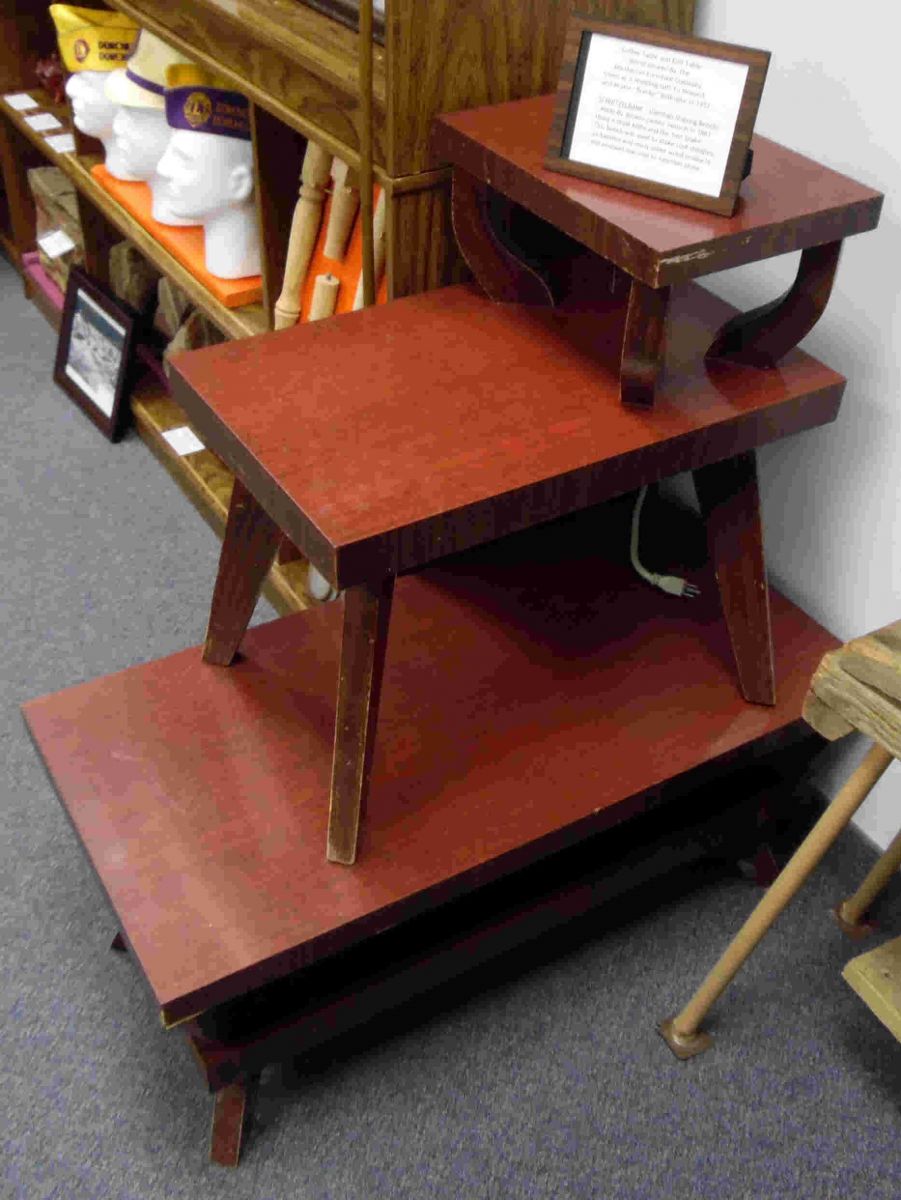 Artifact no. 22 - These end table and coffee table leg style
samples were one
of the options provided by the Dorchester Furniture
Company during the 1950s.
This was better than what Ford provided with
their model T – when they said
you can have any color you want as long as it is
black. These table legs were
donated in 2015 by Dennis and Dave Bach.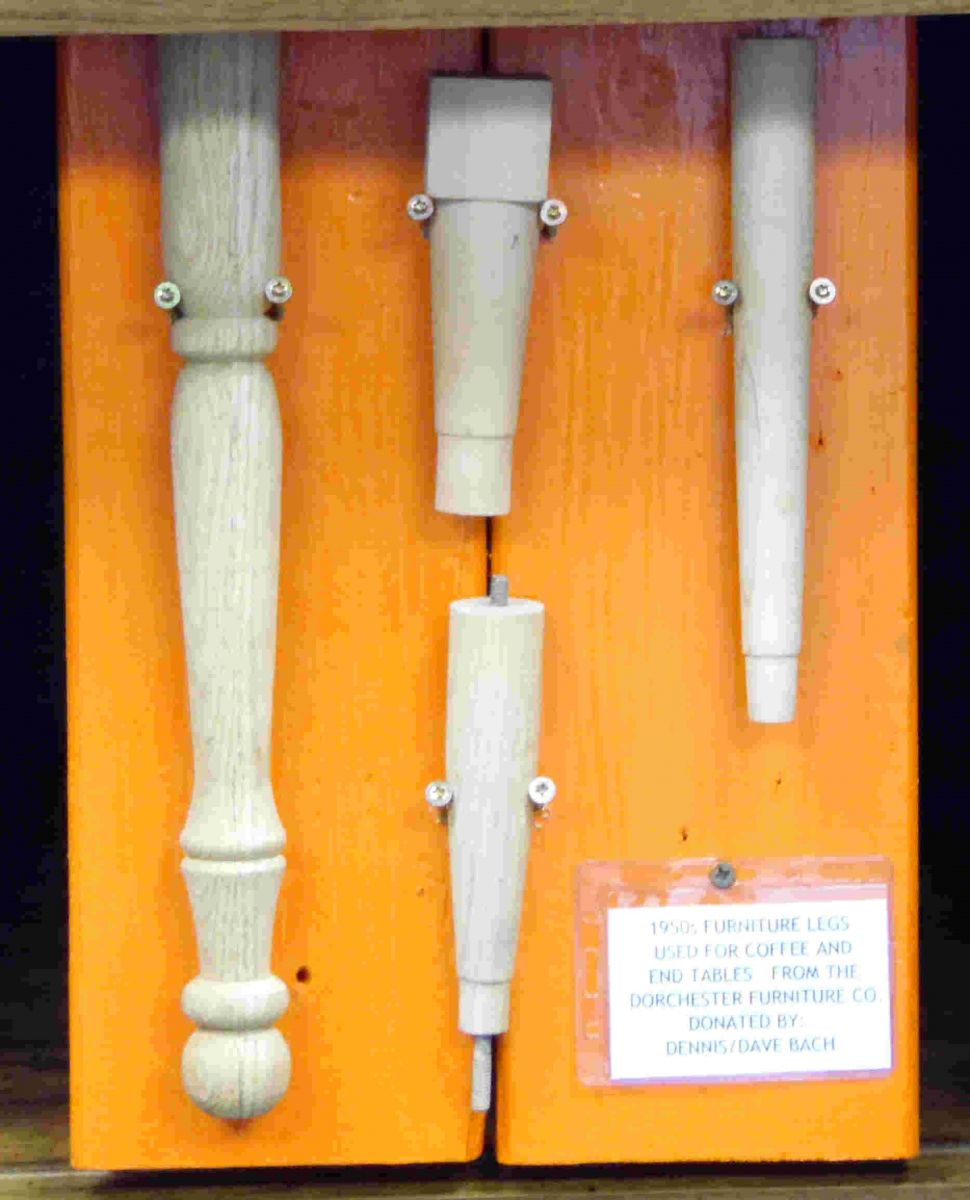 Artifact no. 23 - These uncut stones came from the
Dorchester Stone Quarry
and were donated by Steve Bach in 2015. Dorchester
stone was well known in
its day for the red colors that were imbedded in the
stone. The Dorchester
Stone Quarry was leased originally in 1932 by two
Irishmen, Olson and Ryan.
They continued the operation until 1936 when it
was leased to the Ellis Stone
Company from Stevens Point. They had a 50 year
lease on the land where the
stone quarry existed; which was one and one half
mile south on Hi-Line Avenue
and then a quarter mile east. The stone was
quarried until 1952 when the cost
of excavation exceeded what the market
would bear.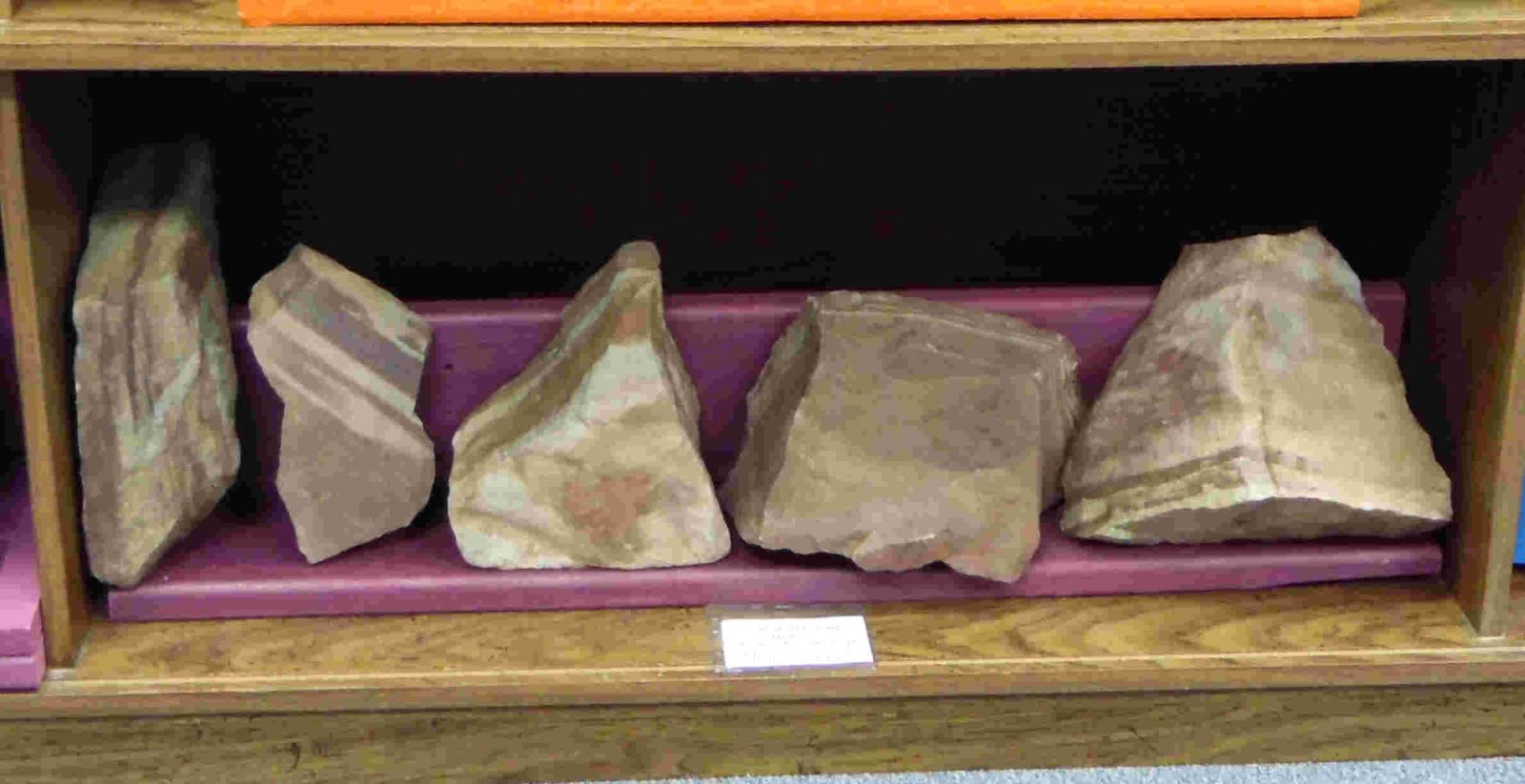 Artifact no. 24 – These Dorchester Stones were quarried in the
spring of
1941and were used in the construction of the addition to the east
side of
Seidel Bros. DX Service Station and Restaurant. When the mason
installed
these on the outside of the building; he would use a hand held
hammer/pick
to shape the stone as he went. It has been said that during the
winter months,
the quarry men would drill holes in the stone, place water in
the holes letting
the water freeze which in turn caused the stone to split
apart. Yes, dynamite
was available but it was costly and caused a lot of the
stone to be unusable.
They were donated in January of 2016 by Randy and
Beaner Stockwell.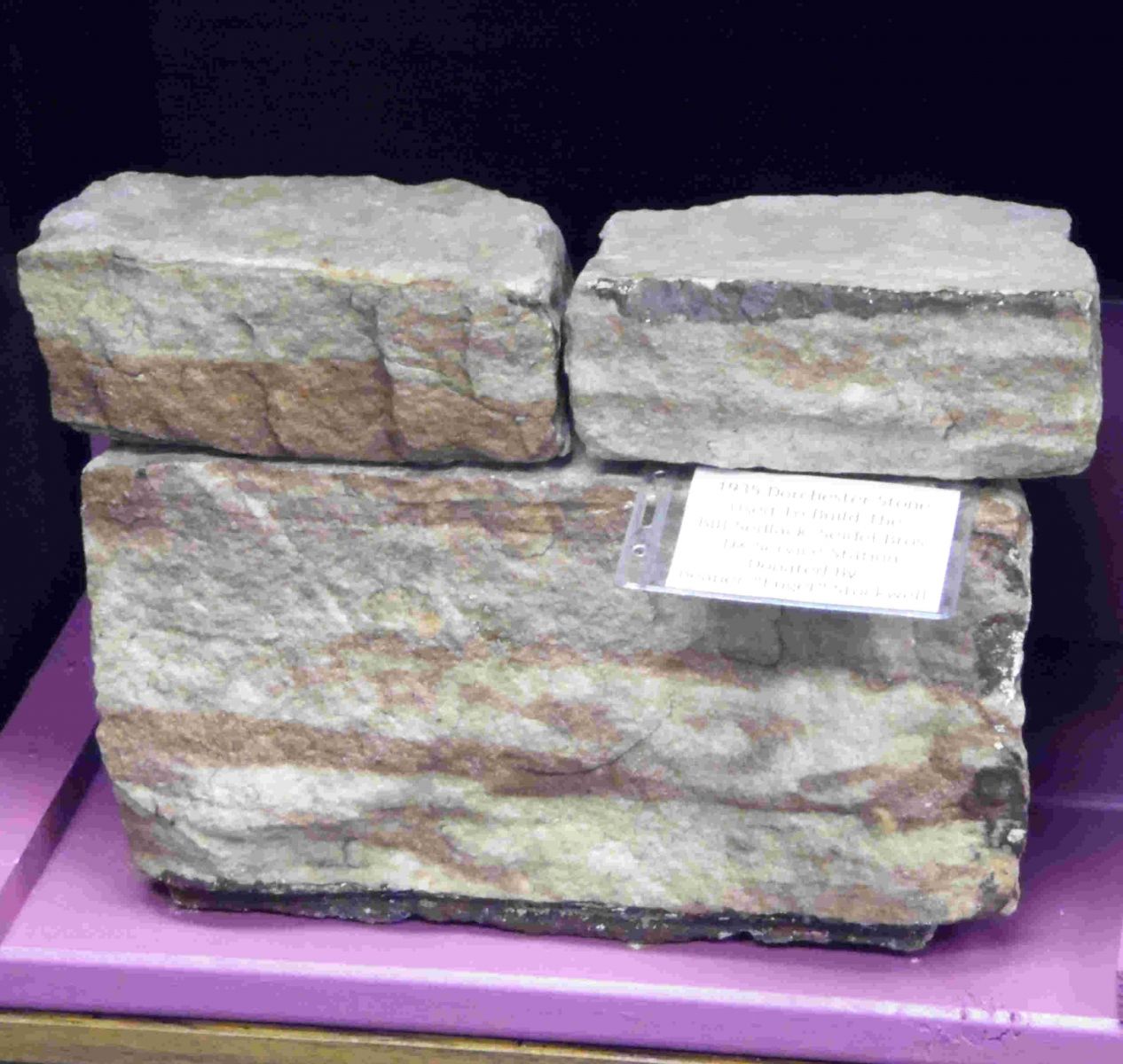 Artifact no. 25 - The two oil lamps were received as wedding
gifts by
Josephine "Mertens" Werner Marrette in 1904 and she used them until
1920 when electricity came to Dorchester. The electric lamp was Josephine's
first electric lamp which is claimed she had purchased in 1917 anticipating
that electricity would arrive that year. Due to constant use until 1954; the
original shade was no longer usable and had to be discarded. However, the
writer found this one on the internet and it very closely resembles the original
shade; including the beads. The Jantsch Family donated the oil lamps and the
electric table lamp in 2014.